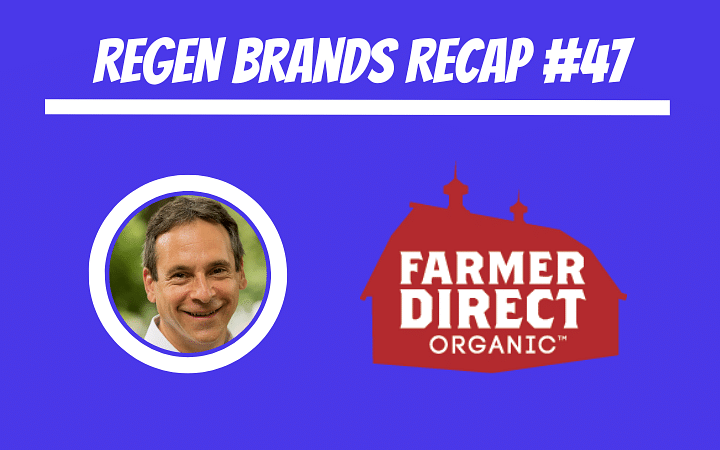 Jason Freeman @ Farmer Direct Organic
Building Regen Organic Grain Rotations
Jason Freeman is the CEO of Farmer Direct Organic. Farmer Direct Organic sells a 100% organic lineup of lentils, peas, beans, hemp, and oats.


The Brand
Farmer Direct Organic is a 100% organic brand offering lentils, peas, beans, hemp, and a new line of Regenerative Organic Certified® (ROC), gluten-free rolled oats. Consumers can find their products in the bulk bins and on shelves at Whole Foods, as well as independent and national co-op grocery and health food retailers. They also produce the private label, soon-to-be Regenerative Organic Certified® French Green Lentils and Red Split Lentils at Whole Foods Market. All of their products are single origin, sourced and traceable from U.S., Canadian, and Mexican family farms.


Forging a Path
Jason's path to starting Farmer Direct Organic is long and winding – from being inspired by a tree-hugging friend who saved an old growth wilderness and watershed, to exploring the potential of hemp, to lobbying the Canadian government to legalize industrial hemp. Along the way, he realized firsthand the benefits of eating organic after experiencing some health issues.
He formed a company called Bio Hemp, the first brand to have a full product line of certified organic hemp seed derived food products including oils, flour and roasted hemp seeds. In 2002, after selling that company, a few of the hemp farmers approached Jason about forming a cooperative to sell organic lentils and peas. By 2009, they had 60 farmers in their co-op selling organic commodity grains. During the economic headwinds of the Great Recession the commodity grain markets crashed, and the co-op decided to pursue retail as a new sales channel.


First in Line
Jason knew they needed differentiated products to stand out in the marketplace with organic consumers. Their products were already 100% organic and 100% farmer-owned, but he also wanted to be the first domestic product to be 100% fair-trade. Jason found the Agricultural Justice Project, which had developed a certification program led by farmers and farm workers. The co-op got certified and started selling 25 lb bags for retailer bulk bins, highlighting that their company was the first of its kind to be 100% organic, 100% farmer-owned, with 100% domestic fair trade sourcing.
It wasn't long before Whole Foods contacted them and, with some prodding from David Bronner, Jason agreed to sell their products as an exclusive – quickly selling 5 to 7 truckloads a month. The co-op quickly went from a million dollars in debt to profitable again.

Picking up Grains
Like many entrepreneurs, Jason hit a few bumps along the way. After taking on a new general manager with conventional grain commodity experience, Jason decided to leave the co-op. It wasn't long before many of the original farmer members reached out to him for help marketing their crops. Jason and his friend founded a grain-trading company called Organic Trade Solutions, selling organic commodities to food manufacturers.
It wasn't long before the co-op, without Jason, realized they now lacked the expertise and tenacity for the organic space, and approached Jason about purchasing the brand. Armed with a second chance, Jason decided it was also time to think beyond just organic.


A Growth Strategy
With the co-op brand in hand, Jason worked hard to rebuild sales and to re-establish its relationship with Whole Foods. He quickly realized they needed capital to fund their own oat rolling, seed cleaning and more – and even considered selling the company. Around that time, a much larger Saskatchewan grain trader reached out, recognizing the rising demand for organic practices and reduced pesticide use. They acquired the brand and agreed to adhere to its strict organic standards.
The brand still boasted 100% organic products with 100% fair trade sourcing, but it had lost its claim to 100% farmer-owned. To fill the gap Jason turned to 100% single origin and traceable to a specific family farm, 100% tested for pesticide residue, and an increased investment in regenerative. He approached the new ownership group about helping their farmers transition to Regenerative Organic Certified® with both on-farm technical assistance and sponsorship for certification costs.


Getting Farmers Onboard
Knowing the risks associated with changes in management practices, Jason got board buy-in to fund the certification costs. If the crop fails, Farmer Direct eats the cost of the certification fees. If the farmer succeeds, Farmer Direct factors the fees into the eventual purchase price for the farmer's crops. Farmer Direct also hired a consultant to help farmers with all the on-farm aspects of meeting the certification standards.
"We're taking all the risk on the certification fee and they're getting a significant premium on those products. So the first year that we did it, the prevailing price for organic oats was about six bucks a bushel. You can maybe get $7 or $8 a bushel if you had a gluten-free status. For ROC, we offered farmers $12 / bushel." – Jason
Many of their farmer partners are nearing ROC certification, and Jason's goal is for their entire supply to be 100% Regenerative Organic Certified® at some point.
50% Market Share for Regen
To reach this market share goal, Jason believes we need to build the infrastructure to support regen brands and create consumer demand.
"One of my farmers in Manitoba said, we can grow organic, but we just need to know the market is there. There's already a lot of tension in the conventional agriculture industry between the input suppliers and the farmers. Farmers want to see the industry change, but consumers have to push their retailers to drive that change." - Jason
"Sadly too many consumers are looking at food like a drug. They're looking at food as something that's pleasurable. But that drug needs to change because people are sick. Culturally, we actually need to start eating real food because it heals us, makes us grow and delivers the nutrients the body needs. Once we get to that cultural shift, then I think we'll start to see real change." – Jason
---
You can check out the full episode with Jason @ Farmer Direct Organic HERE.
Subscribe to future episodes of the ReGen Brands Podcast on your favorite podcast platform using the buttons below. You can help support our mission of growing regenerative CPG brands with a 5-star rating!
Stay engaged in the conversation by subscribing to our weekly newsletter, The ReGen Brands Weekly, and connecting with us on LinkedIn (Kyle & AC).
Your support of the show and these brands truly means the world to us. Thank you!
This ReGen Recap was produced with support from Kristina Tober