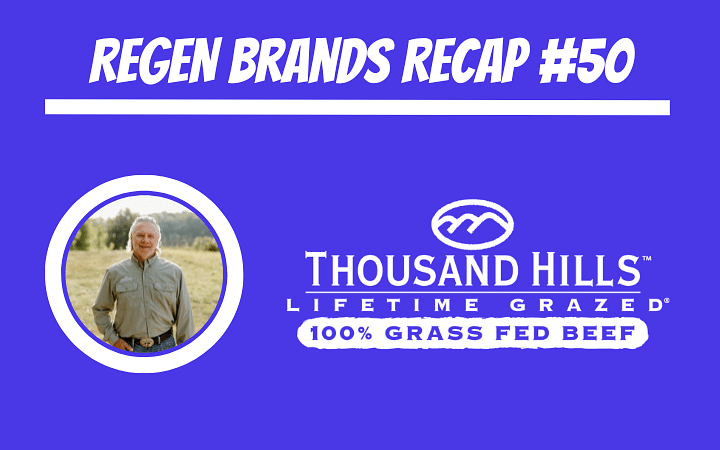 Matt Maier @ Thousand Hills Lifetime Grazed
A 20-Year Winning Formula For Regenerative Beef
Matt Maier is the Founder, Owner, and Chief Grass Farmer at Thousand Hills Lifetime Grazed. Thousand Hills is supporting regenerative agriculture with its vast array of fresh and value-added 100% grass-fed, grass-finished regenerative beef products.


The Brand
Thousand Hills Lifetime Grazed is a CPG brand distributed in all 50 states. In the last year, it has become the number one protein brand (fresh or frozen) in the natural retail channel boasting 6 of the top 10 SKUs in the country. Their products are available in all across the country at co-ops, natural food stores, Natural Grocers, and many other regional chains. Thousand Hills currently works with 15 different processors, sourcing from over 50 farms that manage 600,000 acres of land.
<svg width="50px" height="50px" viewbox="0 0 60 60" version="1.1" xmlns="https://www.w3.org/2000/svg" xmlns:xlink="https://www.w3.org/1999/xlink"><g stroke="none" stroke-width="1" fill="none" fill-rule="evenodd"><g transform="translate(-511.000000, -20.000000)" fill="#000000"><g><path d="M556.869,30.41 C554.814,30.41 553.148,32.076 553.148,34.131 C553.148,36.186 554.814,37.852 556.869,37.852 C558.924,37.852 560.59,36.186 560.59,34.131 C560.59,32.076 558.924,30.41 556.869,30.41 M541,60.657 C535.114,60.657 530.342,55.887 530.342,50 C530.342,44.114 535.114,39.342 541,39.342 C546.887,39.342 551.658,44.114 551.658,50 C551.658,55.887 546.887,60.657 541,60.657 M541,33.886 C532.1,33.886 524.886,41.1 524.886,50 C524.886,58.899 532.1,66.113 541,66.113 C549.9,66.113 557.115,58.899 557.115,50 C557.115,41.1 549.9,33.886 541,33.886 M565.378,62.101 C565.244,65.022 564.756,66.606 564.346,67.663 C563.803,69.06 563.154,70.057 562.106,71.106 C561.058,72.155 560.06,72.803 558.662,73.347 C557.607,73.757 556.021,74.244 553.102,74.378 C549.944,74.521 548.997,74.552 541,74.552 C533.003,74.552 532.056,74.521 528.898,74.378 C525.979,74.244 524.393,73.757 523.338,73.347 C521.94,72.803 520.942,72.155 519.894,71.106 C518.846,70.057 518.197,69.06 517.654,67.663 C517.244,66.606 516.755,65.022 516.623,62.101 C516.479,58.943 516.448,57.996 516.448,50 C516.448,42.003 516.479,41.056 516.623,37.899 C516.755,34.978 517.244,33.391 517.654,32.338 C518.197,30.938 518.846,29.942 519.894,28.894 C520.942,27.846 521.94,27.196 523.338,26.654 C524.393,26.244 525.979,25.756 528.898,25.623 C532.057,25.479 533.004,25.448 541,25.448 C548.997,25.448 549.943,25.479 553.102,25.623 C556.021,25.756 557.607,26.244 558.662,26.654 C560.06,27.196 561.058,27.846 562.106,28.894 C563.154,29.942 563.803,30.938 564.346,32.338 C564.756,33.391 565.244,34.978 565.378,37.899 C565.522,41.056 565.552,42.003 565.552,50 C565.552,57.996 565.522,58.943 565.378,62.101 M570.82,37.631 C570.674,34.438 570.167,32.258 569.425,30.349 C568.659,28.377 567.633,26.702 565.965,25.035 C564.297,23.368 562.623,22.342 560.652,21.575 C558.743,20.834 556.562,20.326 553.369,20.18 C550.169,20.033 549.148,20 541,20 C532.853,20 531.831,20.033 528.631,20.18 C525.438,20.326 523.257,20.834 521.349,21.575 C519.376,22.342 517.703,23.368 516.035,25.035 C514.368,26.702 513.342,28.377 512.574,30.349 C511.834,32.258 511.326,34.438 511.181,37.631 C511.035,40.831 511,41.851 511,50 C511,58.147 511.035,59.17 511.181,62.369 C511.326,65.562 511.834,67.743 512.574,69.651 C513.342,71.625 514.368,73.296 516.035,74.965 C517.703,76.634 519.376,77.658 521.349,78.425 C523.257,79.167 525.438,79.673 528.631,79.82 C531.831,79.965 532.853,80.001 541,80.001 C549.148,80.001 550.169,79.965 553.369,79.82 C556.562,79.673 558.743,79.167 560.652,78.425 C562.623,77.658 564.297,76.634 565.965,74.965 C567.633,73.296 568.659,71.625 569.425,69.651 C570.167,67.743 570.674,65.562 570.82,62.369 C570.966,59.17 571,58.147 571,50 C571,41.851 570.966,40.831 570.82,37.631"></path></g></g></g></svg>

View this post on Instagram

Determined to Make a Living
Growing up in Minnesota working on his family's small, multi-species, and grass-based farm, Matt learned early on the value of hard work, nature, and cattle. He also decided that pursuing business and entrepreneurship in food or agriculture was a safe bet in the Twin Cities, home to many of the top food brands and retailers.
Matt started his career in marketing as a brand manager, eager for the opportunity to "run a business inside a business." After working several years at Schwan's, he opened his own agency with a solid client roster of Fortune 500 food companies. By the early 2000s, when his industry began consolidating, he took the opportunity to sell the agency and start something new.


Going Home Again
Matt moved his family back out to the rural area he grew up in so his kids could grow up like him. After purchasing a lot adjacent to his family farm, he quickly saw that many of the surrounding small farms were no longer raising animals, and many were running an extractive rotation of corn and soybeans without any regard for the future of their land.
One day, perched in a deer stand thinking about the future, Matt recalled a study that affirmed the impact that holistically grazed cattle could have on the land. He decided to look at beef brands, eventually investing in Thousand Hills.


Changing Course to Do it Right
Matt worked to set strict protocols for how the beef they sourced was raised and ratcheted up these efforts when he became the majority owner of the company. They developed their own guidelines early on and then eventually adopted the standard created by the American Grassfed Association. When the term regenerative was first gaining momentum, Matt knew two things: 1) Thousand Hills was regenerative 2) And this claim was going to mean something in the marketplace. Concerned about greenwashing, Matt made the decision to pursue Land to Market™ certification. He was drawn to their emphasis on outcomes data to establish credibility.
"It's a high bar and a lot of work, but it's worth it. Sometimes I get a little jealous of the brands that get by without doing it, but realized this is what we have to do." – Matt


Fighting a "Commodity" Mindset
As Thousand Hills has grown, Matt gets plenty of questions from buyers about price. His answer is rather simple: the only direction it's ever going is up.
"As it is, the price nowhere near reflects the value in the package or sufficiently rewards the producers. The last thing I want to do is consolidate cattle into one plant or figure out the fastest way we can make that animal grow by giving it the most supplements, sugar, and starch. We need to go in the other direction – more diversity, more care, more stewardship – and we'll be much better off." – Matt
The Data Supports Grass-Fed, Grass-Finished
More than 95% of cattle in this country end up in a feedlot. This contrasts with grass-fed, grass-finished animals who eat a natural, diverse diet of grasses, legumes, and forages while living their whole life on pasture. We know this more natural approach is better for the animals and the humans consuming them, and Matt is excited about the emerging body of research proving that with empirical data.
"We don't need a whiz-bang technology thing. We can just simply do some old-fashioned stewarding of the land: multi-species, manure for fertilizer, letting diverse plants grow. We don't need to spray weeds with glyphosate – we don't need that for our food system. Let's really grow food, not feed or fuel, that we can consume in this country." – Matt
A Winning Strategy
Looking back over the past 20 years, Matt credits his success to a few not-so-simple things:
1) Having high standards and aligning with the partners who support them.
Matt believes the high bar they have set makes the difference, and it has allowed them to create a value chain that is aligned from top to bottom, from producers, to retailers, to consumers.
2) Giving the end consumer an amazing eating experience.
Matt stresses that this is table stakes for any successful brand, and they've learned a lot over 20 years about cattle genetics, farm practices, processing protocols, and other factors that can create a winning formula for taste.
3) Product development = survival.
To make it financially and compete against the 80% of imported "grass-fed" beef, they need to utilize and sell the whole carcass. Doing this in "value-added" form (from BBQ beef to bone broth, chili, jerky, and meat sticks) allows them to increase their margins to sustainable levels.


50% Market Share for Regen
Matt emphasizes that the time to change the system is now. He also applauds the efforts of retailers like Natural Grocers who are exposing consumers to the right kinds of products without compromise.
"We cannot continue to sustain our current food system, so let's start changing it, one landowner, one consumer, one retailer, one distributor at a time." – Matt


---
You can check out the full episode with Matt Maier @ Thousand Hills Lifetime Grazed HERE.
Subscribe to future episodes of the ReGen Brands Podcast on your favorite podcast platform using the buttons below. You can help support our mission of growing regenerative CPG brands with a 5-star rating!
Stay engaged in the conversation by subscribing to our weekly newsletter, The ReGen Brands Weekly, and connecting with us on LinkedIn (Kyle & AC).
Your support of the show and these brands truly means the world to us. Thank you!
This ReGen Recap was produced with support from Kristina Tober