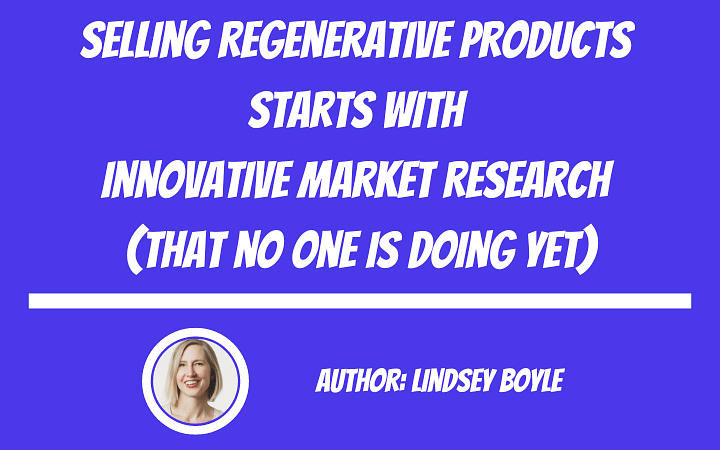 CPG Insights 🤝 Regenerative Agriculture
My name is Lindsey Boyle, and I have a lifelong commitment to healthy food & healthy food systems. In the last 4 years that has meant going ALL IN on regenerative agriculture, including co-founding the Sandown Centre for Regenerative Agriculture - a diverse 83-acre ecosystem that serves as a community learning site, incubator for new farmers, and hub for soil health research.
But I've spent the majority of my career in the CPG world. My background is in strategic brand marketing, and I worked for 18 years with some of the world's biggest food & beverage companies as a brand manager, innovation manager, and innovation consultant. You'll know the names of most of them: Kraft Heinz, Mondelez International, PepsiCo, Amazon, Whole Foods, Nature's Path Organics, Mark Anthony Brands (Mike's Hard Lemonade / White Claw), and Wells Enterprises (Blue Bunny Ice Cream).
So I know regenerative agriculture, and I know CPG brands. But like you, I still can't easily fill my fridge and cupboard with regenerative brands. I write this blog with the big goal of changing that.
Learning From The Past
Flash back: remember the 'functional foods' trend? (This was huge in the CPG business in the 1990s and early 2000s). A good part of my time at Mondelez/Kraft (pre-split) was working on healthy cereal innovation. This involved working with the in-house registered dieticians (RDNs) and food science team to understand which on-trend ingredients were most 'functional'.
Looking back, that seems so simple. Simple to do and simple to communicate to consumers.
Blueberries? An amazing fruit full of cancer-fighting antioxidants! Top of the chart! Let's create new cereal concepts packed with blueberries and use the nutrition facts panel to make the health benefits clear. Then test the concepts with our target audience, learn which resonates most as delicious (table stakes) and nutritious - and boom! Innovation opportunity sorted!
(Cue the nostalgia... ⬇️)
Bridging To A Regenerative Future
Enter regenerative agriculture. Emerging science (from Bionutrient Food Association, Soil Heroes Foundation, Edacious, etc.) is showing that the healthiest food comes from the healthiest soils. And that a blueberry grown in healthy soil may be off the antioxidant chart while one grown in soil damaged by conventional, industrial agriculture practices (monocropping, tillage, etc.) may be much less nutrient dense. Or due to the use of chemicals like glyphosate, may even be toxic for us and increase our risk for certain diseases.
And that's not the end of the story…I haven't even started on how healthy soils also hold the potential to produce more flavourful food (more in this article and excerpt from Dan Barber's book, The Third Plate).
So how things are grown, not just ingredients in isolation, need to be our focus in food innovation and communicating the benefits of regenerative agriculture to consumers.
And we need to know how to talk about BOTH the 'me' benefits (taste and nutrient density) and the 'we' benefits (climate and biodiversity).
This shift will mean increased demand for regenerative agriculture and farmers getting paid more for crops with more flavour and nutrients.
The Road Ahead
But how do we get from here to there? This begs lots of questions…
Who has the bandwidth to receive this new (much more complex) food story?

How can we clearly state the interrelated 'me' and 'we' benefits of regeneratively grown food?

How can we make regenerative products the go-to choice for climate-conscious eaters?
All while acknowledging that our food choices are hugely emotional and cultural and emerging regenerative brands must fit within a full spectrum of food that satisfies all our irrational, human motivations.
I don't have all the answers, but I know what we DON'T need more of…
We don't need more surveys that ask people if they are willing to pay more for food products that are 'sustainable'.
A high % saying yes might be good clickbait, and this data has some value in pointing to the increasing demand for sustainable CPG brands...
BUT WE CAN'T STOP THERE.
We need marketing to communicate why and how regeneratively grown food is net-positive vs the alternative being net-negative. We need marketing that invites people to come along with us on the journey to making regenerative brands the norm.
And good marketing starts with deep, strategic market insights…not just surveys of the general population.
We can look to the example of IKEA. With an ambition to become a fully circular and climate positive company by 2030, they can't just ask what people want from IKEA today. They need to help people understand and adapt to a more circular business model that designs out waste, reduces emissions, and keeps products in use longer. That requires designing research to observe and learn how to motivate and enable customers to prolong the life of IKEA products and offer convenient solutions for people to acquire, care for, and pass them on in circular ways. IKEA has already collected insights from 5,300 home visits across the globe which has contributed to the development of programs such as the IKEA Sell Back program - to give chairs, shelves, or chests of drawers as many lives as possible.
What We Need
We need deep research with people who are really motivated by food that is more nutritious and more delicious. We need to take a page from IKEA and go into their homes.
We need to learn what they currently believe about nutrition and flavour…and what else they want from their food. And then, in that context, we need to get their response to legitimate regenerative brands - brand stories, packaging, format, taste, nutrition profile, and how they fit into their everyday life.
And then, and only then, their response to why and how a brand, product, or ingredient is also a climate or biodiversity ally.
How We Do It
We need to go into the homes of people who are already thinking a bit more deeply about their food. Looking in their cupboards and fridges to see what they are choosing today and see how regen brands can be complementary or add something that is missing. (This approach is called ethnography, which is best done in person with a videographer but can also be executed digitally via mobile apps).
So, who is our target participant?
1) People at a health crossroads. People (representative of diverse ethnicities, gender identities, and ages) who are making dietary changes due to serious health concerns. Feeling unwell is a powerful motivator for changing the food we choose.
2) Athletes. People who really care about the nutrients their food delivers. People who really need their food to go the extra mile for their performance.
3) New parents. People who are really thinking about the very best things they can do to give their babies the best start in life.
By asking about what these likely early adopters are buying and eating today AND showing and getting responses to a range of regen CPG brand positionings and communications, we can start converging on a unified way of messaging about regenerative agriculture to consumers. People who overcome a health crossroads, athletes, and new parents can articulate what they need and want from regenerative CPG brands in a way that the general population cannot.
These likely early adopters may also, once aware of the benefits of regenerative agriculture, be more likely to be ambassadors for the regenerative agriculture movement…so engaging them in research may also add momentum and demand for regenerative brands.
What's Next?
At this early point in the journey to making regenerative brands the norm, surveys of the general population are not the answer. What we need to do at this moment is tap into the hearts, minds (and stomachs) of people at a health crossroads, athletes and new parents. This understanding will be key to creating best practices for marketing regenerative brands.
If you are interested in funding leading-edge research and ethnography to create meaningful engagement with the early adopters of regenerative brands, please reach out to lindsey@circularcitizens.com!
---
Hi, I'm Lindsey Boyle 👋. I'm the Founder of a B Corp certified market insights agency, a regenerative agriculture advocate, and an ex-CPG brand marketer.
The GIFs for this article were curated by Anthony Corsaro 🤌