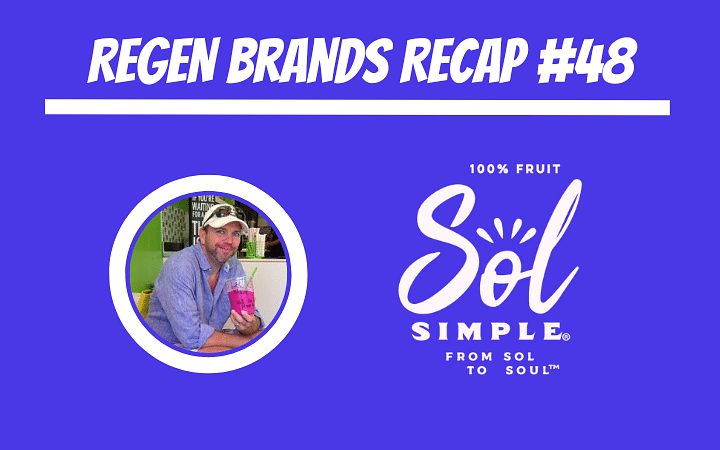 Will Burke @ Sol Simple
Connecting 1,200 Smallholder Farmers To A Better Market
Will Burke is the Founder and CEO at Sol Simple. Sol Simple is supporting regenerative agriculture with its Regenerative Organic Certified®, dried tropical fruit products and its broader ecosystem of enterprises working with 1,200 smallholder farmers in Nicaragua.


The Brand
Sol Simple produces Regenerative Organic Certified® (ROC) solar-dried fruit with a focus on tropicals (mango, pineapple, banana, dragon fruit). Their seven family pack and snack size SKUs can be found in stores on the coasts, including Whole Foods and independent chains. To dry the fruit, Sol Simple uses solar technology to heat air and circulate it in cabinet dryers, preserving nutrients and boosting flavor.


From Nicaragua, With Love
While a desire to teach brought Will to South America, 10 years in, it was mangoes rotting on the beach that inspired a business.
"My wife Maria was like, remember in Boulder, people paid $15/pound for organic dried mango? There's tons of mangoes in Nicaragua – what do you think about drying fruit?" - Will
After months of exploration into renewable energy and solar drying technology, and many miles driving around the countryside identifying the fruit and farmers to partner with, Will and Maria set about connecting smallholder farmers to a better market. At the time they had no idea the resources and investment it would take to make that happen.

Finding A Market
In the beginning, their goal was just to get the product to market. They knew they couldn't afford to start a brand, so Will decided bulk sales was the right path. After struggling with meager sales and tough competition from Mexico and Africa, Will determined they had to add value and differentiate themselves in the market and launched Sol Simple.
"The goal was to become the face of all the social and environmental impact work that we were doing in Nicaragua. And this was before I even knew what a social enterprise was. It wasn't even a term then. Sol Simple is the story of the farmer and the development work we're doing, presented through a really tasty, delicious product." – Will


Building An Ecosystem
When Will first launched his business, his hope was that the NGOs prevalent in Nicaragua would help him develop organic fruit value chains, but it never happened. Instead, he built the infrastructure himself, establishing credit and input programs to get his growers bankable. He hired agricultural development teams and invested in production, becoming the first company in Nicaragua to be fair trade certified and certified organic.
All this work led to the creation of 3 distinct business entities working in harmony to create an ecosystem of support for Nicaraguan farmers:
1) Burke Agro is an independent agriculture development company made up of a dedicated team of agronomists focused on improving sustainable farming practices with smallholder farmers to ensure quality, productivity, certifications, and a consistent and transparent purchase process. The company offers credit and access to organic inputs to marginalized and emerging farmers. Burke Agro also sources and sells a wide variety of organic fresh fruit to international markets.
2) Sol Organica is a Nicaraguan food processing company that sources, manufactures, and markets all natural and organic certified solar dried fruit and tropical fruit purees and juices for export to North America, South America, Asia, and Europe.
3) Sol Simple is the commercial face of Sol Organica's retail and bulk products. It's how they spread the good word about renewable energy, sustainable organic production and fair trade. Through socially responsible and environmentally friendly business practices, our goal is to not only provide customers with high-quality products, but to inspire consumers to become agents of change and rethink where their food comes from.


The Regenerative Spark
His success caught the attention of Michael Besancon, who had just retired from Whole Foods as a Regional Vice President. Michael asked Will to consult on developing mango value chains in Haiti, and soon their conversations turned to farming practices and the potential of regenerative agriculture.
At the time, all of Will's farmer partners were certified organic, but some were still producing in a monoculture. Most of them, however, were already using regenerative practices or producing in complex regenerative agroforestry systems.
"They told us, this is how my father farms, my grandfather farms. I just know my soil is more fertile when it's done this way." - Will
Soon thereafter, Burke Agro began to focus on helping as many farmers as possible convert to regenerative agroforestry systems. The company has become a resource – helping to transform fragile, degenerated monoculture farms into rich, biodiverse ecosystems. All with the north star the initial business was created to serve: increasing profit for smallholder farmers and alleviating poverty in the country. In the process, they're also creating social change, making it attractive for younger generations to stay on the farm.
"Their livelihoods are improving because their kids are going to university, and they're not necessarily studying marketing – they're studying agriculture. They want to come back, and their livelihoods are improving." – Will
Formalizing all these regenerative efforts through certification was never a necessity in Will's mind, but they jumped at the opportunity when the Regenerative Organic Alliance unveiled their pilot program for the new Regenerative Organic Certification. Upon completing the pilot, Sol Simple became the first Regenerative Organic Certified® fruit brand and value chain in the world.

Calling Out Gaps in the System
While there's an overall need for more investment in regenerative infrastructure, Will highlighted a worldwide gap in financing – for example, while 70% of Nicaraguan exports come from smallholder farmers, 90% of them don't have access to financing. That puts the onus on commercial partners like Burke Agro to provide the credit, finance the debt, and support the cash flows.
"There are companies – especially in banking – they're not comfortable financing non-traditional products. So unless you're in coffee, rice, or sugar, they're not going to finance you. We're getting tired of pulling people out of the water. We need to go upstream and figure out why they fell in the first place. And financing is one of them." – Will


50% Market Share for Regen
While Will is driving change below the equator, he believes more needs to come here at home, starting with policy.
"We need to support farmers so they can diversify their crops into products that are not just producing high fructose corn syrup which is killing us. We need to help them grow products that are healthy and will create better diets, build soil health, and make them more resilient to climate change." – Will


---
You can check out the full episode with Will Burke from Sol Simple HERE.
Subscribe to future episodes of the ReGen Brands Podcast on your favorite podcast platform using the buttons below. You can help support our mission of growing regenerative CPG brands with a 5-star rating!
Stay engaged in the conversation by subscribing to our weekly newsletter, The ReGen Brands Weekly, and connecting with us on LinkedIn (Kyle & AC).
Your support of the show and these brands truly means the world to us. Thank you!
This ReGen Recap was produced with support from Kristina Tober