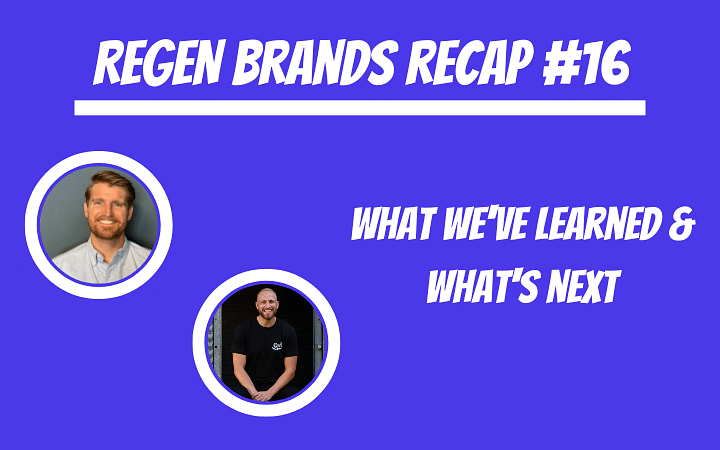 What We've Learned & What's Next
2022 may be remembered as the year regenerative agriculture took root, but what does regenerative agriculture mean? Who does it impact? How do we push it forward?
It's easy to get lost in conversation about what regen ag is, but fundamentally, it is still growing and selling food. Regenerative or not, agriculture is still a business. And until we build a viable market for regenerative products, we can't positively change production.
And that's why we launched ReGen Brands.
Kyle and I leaving the coffee shop in May ⬆️ (I'm Kramer)
Last year, our podcast featured 15 different brands across consumer packaged goods (CPG) – from chicken to capers, soap to snacks, and so much more. We dug into each brand's experience with product development, marketing, supply chain, and funding, and learned that every founder is driven by a desire to change the way food is grown and processed.
Through these many conversations, we walked away with a few critical insights – at the core of which is that these brands need our support.
Top 4 Takeaways from 2022
🤯
ReGen Brands are vastly different from their peers
Listening to the stories of these 15 brands, we see the impact regen brands could have in addressing overall human and planetary health. We've seen how vastly different their production practices, supply chains, and ultimately nutrient density, are versus conventional counterparts.
But in order for regen brands to succeed and scale, we must develop a market so consumers can continue to access and buy products that are manufactured and produced regeneratively.
Curious about our conviction here? While each episode drives this point home, here are three we'd start with if you're not yet a believer: Episode #7, Episode #10, & Episode #15.
💰
ReGen Brands need a new kind of funding and investor / partner
Regardless of stage, regen brands need very different funding than typical CPGs. They need patient investors aligned with their mission.
In 2023, we expect funding will continue to dry up across the space, making it harder for brands to raise money. While investors – from Angels to Venture Capital and Private Equity – are still sitting on cash, they're taking a harder look at fundamentals and valuations – creating opportunities for high-quality regen brands with disciplined founders. At the same time, there's tension building in CPG because of inflation, with retailers asking brands to eat additional costs so the retailers can preserve their margins.
Smaller regen brands will have less leverage and will need committed stakeholders who can support them. To stay funded, they'll need to shift their mindset from growth-at-all-costs to sustainable, profitable growth and healthy unit economics.
🤝
ReGen Brands need to increase capacity through collective action
Just as it takes a village to raise a child, so will it take partnership and collective action to grow the regenerative marketplace – and certification is a good place to start. Unlike organic certification which has standards and verifications, regen doesn't really have a single definition or certification – which is creating confusion for both retailers and consumers when it comes to the value behind regenerative products and practices.
To assign regen products a single certification seems contrary to what regenerative is all about. But regen brands need to coalesce around the certification issue and find a way to define their value-add in a way that reflects all the different nuances, products and production practices in the space.
Certification is just the tip of the iceberg, as there are opportunities to improve results through sales, marketing, PR, and many other initiatives where efforts could be combined for greater results.
📣
ReGen Brands need to create a unified, concise and compelling messaging strategy
Regen CPG must come up with a unified marketing message to retailers and consumers about what regenerative agriculture is, why it matters, and why these products warrant a premium – similar to what we've seen with non-GMO. Retailers have historically relied on third-party certifications to coalesce segment marketing and to educate consumers – and regen lacks a single message.
As it stands, while only about 19% of consumers have heard about regen ag (according to a 2021 Food & Health Survey by Food Insight), once it was explained, they believed it was better for the land and their food. The potential for buy-in is there, we just have to lead it.
Whether it's adopting a trade organization to lead consumer education, using influencers and organic social, or aligning the top retailers in the natural channel – regen brands will need to align and partner to create a meaningful identity and messaging and push it through at every step in the supply chain.
Without this, we will never drive the collective distribution, trial, and repurchase that is needed to grow regen brands to significant market share.
What's Ahead
We're excited to keep sharing the stories of regen brands and to continue providing a platform that supports these trailblazers while inspiring others to do the same.
You can follow along on your favorite podcast platform (Apple Podcasts, Spotify, & YouTube), subscribe to our weekly newsletter, or follow us on LinkedIn (Kyle & AC) to stay engaged in the conversation.
Your support of the show and these brands truly means the world to us.
Here's to a great 2023!
This ReGen Recap was produced with support from Kristina Tober