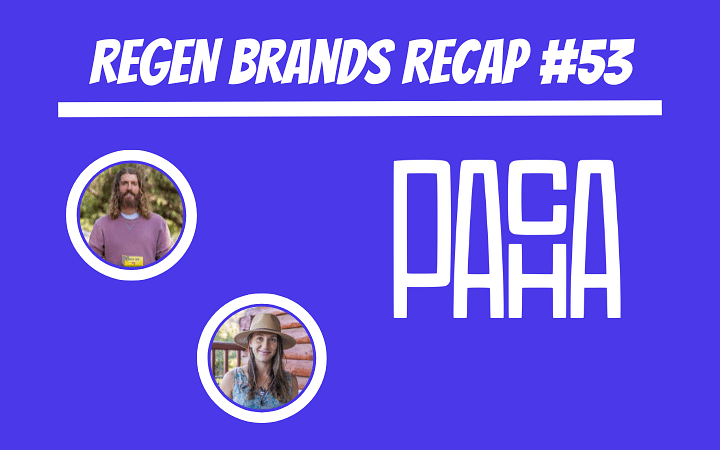 Adam Hiner & Maddie Hamann @ PACHA
Regenerative Buckwheat Bread Goes Nationwide
Adam Heiner and Maddie Hammond are Co-Founders at PACHA. PACHA is supporting regenerative agriculture with its lineup of organic and regenerative buckwheat bread products. PACHA buckwheat bread is grain and gluten-free, made with three ingredients and includes three flavors of bread and one SKU of buns. PACHA is available online, in select retailers on the coasts, and just launched in Whole Foods nationwide.
Bread Obsessed
When you're gluten-free, finding bread you can eat often becomes an obsession and in this case, a shared passion. For Adam and Maddie, it was bread at first sight, when Adam and Maddie shared a slice of buckwheat bread (the original recipe given to him by a friend).
They also shared a desire to combat climate change. Maddie was pursuing a PhD at Scripps Institution of Oceanography. Adam, by sourcing directly from farmers for his catering company and restaurant and joining the board of a regenerative non-profit farm, was inspired to drive change in the food industry. Through these past experiences and their chance connection, buckwheat bread became their shared answer to help combat climate change.

<svg width="50px" height="50px" viewbox="0 0 60 60" version="1.1" xmlns="https://www.w3.org/2000/svg" xmlns:xlink="https://www.w3.org/1999/xlink"><g stroke="none" stroke-width="1" fill="none" fill-rule="evenodd"><g transform="translate(-511.000000, -20.000000)" fill="#000000"><g><path d="M556.869,30.41 C554.814,30.41 553.148,32.076 553.148,34.131 C553.148,36.186 554.814,37.852 556.869,37.852 C558.924,37.852 560.59,36.186 560.59,34.131 C560.59,32.076 558.924,30.41 556.869,30.41 M541,60.657 C535.114,60.657 530.342,55.887 530.342,50 C530.342,44.114 535.114,39.342 541,39.342 C546.887,39.342 551.658,44.114 551.658,50 C551.658,55.887 546.887,60.657 541,60.657 M541,33.886 C532.1,33.886 524.886,41.1 524.886,50 C524.886,58.899 532.1,66.113 541,66.113 C549.9,66.113 557.115,58.899 557.115,50 C557.115,41.1 549.9,33.886 541,33.886 M565.378,62.101 C565.244,65.022 564.756,66.606 564.346,67.663 C563.803,69.06 563.154,70.057 562.106,71.106 C561.058,72.155 560.06,72.803 558.662,73.347 C557.607,73.757 556.021,74.244 553.102,74.378 C549.944,74.521 548.997,74.552 541,74.552 C533.003,74.552 532.056,74.521 528.898,74.378 C525.979,74.244 524.393,73.757 523.338,73.347 C521.94,72.803 520.942,72.155 519.894,71.106 C518.846,70.057 518.197,69.06 517.654,67.663 C517.244,66.606 516.755,65.022 516.623,62.101 C516.479,58.943 516.448,57.996 516.448,50 C516.448,42.003 516.479,41.056 516.623,37.899 C516.755,34.978 517.244,33.391 517.654,32.338 C518.197,30.938 518.846,29.942 519.894,28.894 C520.942,27.846 521.94,27.196 523.338,26.654 C524.393,26.244 525.979,25.756 528.898,25.623 C532.057,25.479 533.004,25.448 541,25.448 C548.997,25.448 549.943,25.479 553.102,25.623 C556.021,25.756 557.607,26.244 558.662,26.654 C560.06,27.196 561.058,27.846 562.106,28.894 C563.154,29.942 563.803,30.938 564.346,32.338 C564.756,33.391 565.244,34.978 565.378,37.899 C565.522,41.056 565.552,42.003 565.552,50 C565.552,57.996 565.522,58.943 565.378,62.101 M570.82,37.631 C570.674,34.438 570.167,32.258 569.425,30.349 C568.659,28.377 567.633,26.702 565.965,25.035 C564.297,23.368 562.623,22.342 560.652,21.575 C558.743,20.834 556.562,20.326 553.369,20.18 C550.169,20.033 549.148,20 541,20 C532.853,20 531.831,20.033 528.631,20.18 C525.438,20.326 523.257,20.834 521.349,21.575 C519.376,22.342 517.703,23.368 516.035,25.035 C514.368,26.702 513.342,28.377 512.574,30.349 C511.834,32.258 511.326,34.438 511.181,37.631 C511.035,40.831 511,41.851 511,50 C511,58.147 511.035,59.17 511.181,62.369 C511.326,65.562 511.834,67.743 512.574,69.651 C513.342,71.625 514.368,73.296 516.035,74.965 C517.703,76.634 519.376,77.658 521.349,78.425 C523.257,79.167 525.438,79.673 528.631,79.82 C531.831,79.965 532.853,80.001 541,80.001 C549.148,80.001 550.169,79.965 553.369,79.82 C556.562,79.673 558.743,79.167 560.652,78.425 C562.623,77.658 564.297,76.634 565.965,74.965 C567.633,73.296 568.659,71.625 569.425,69.651 C570.167,67.743 570.674,65.562 570.82,62.369 C570.966,59.17 571,58.147 571,50 C571,41.851 570.966,40.831 570.82,37.631"></path></g></g></g></svg>

View this post on Instagram
Launching a Brand
The intent was to launch a national retail brand. But in 2020, COVID presented plenty of challenges to landing grocery accounts. Steered by their direct-to-consumer consultant, Jordan Frank, they shifted to e-commerce. They drove sales online through product differentiation (being the only organic, binder-free, and gluten-free bread in the market) and scrappy marketing efforts (effectively leveraging Meta's advertising algorithm resulting in high online conversion rates and profitable customer acquisition costs).
Tackling the retail market, however, took an innovative approach. Despite building up its SKU lineup to demonstrate shelf presence, having a highly differentiated product, and demonstrating consumer demand via e-commerce, PACHA continued to hear "no" from most retailers.
For a long time, Adam and Maddie didn't understand the problem. Turns out, retailers just wanted one simple change to the bread. To sell it pre-sliced.
"We decided this is what we're going to do. We're gonna pitch Whole Foods and Sprouts and we're gonna send them sliced bread. I'm gonna hand slice it meticulously so it looks like it went through a professional slicing machine. So we sent the Whole Foods global buyer sliced bread and they said yes. And that was the first big win that we've had in retail." – Adam
Scaling the Supply Chain, Regeneratively
No one was immune to the supply chain challenges of COVID, including the PACHA team. After exhausting their local supplier and nearby health food stores, they found a mill in the Midwest. Storing pallets of buckwheat in a 300 sq foot kitchen, however, presented new challenges and plenty of chaos, spurring a move to a 10,000 sq ft facility.
Unfortunately, that mill (and its farms) was years away from making the transition to regenerative ag. But thanks to a fortuitous introduction from Emily Griffith at Lil Bucks, the PACHA team was introduced to John Strohfus @ Field Theory, an organic buckwheat farmer in the process of receiving regenerative verification from The Soil Carbon Initiative™ (SCI).
Today, PACHA sources 100% from Field Theory, as John has pooled together multiple other farms to grow 1,000 acres of organic and regeneratively grown buckwheat for the brand.

Buckwheat's Big Time Benefits
Through buckwheat, these farms are seeing plenty of agronomic and commercial benefits, and easing their transition to regenerative ag:
Buckwheat is a cover crop that provides cover and roots in the ground year-round to reduce soil erosion.

Buckwheat is one of few cover crops with a commercial value, making this conversation practice a profit center versus a cost center for the farmer. It also sells at a premium over other commodities like corn, soy, or wheat.

Because it has a short growth cycle, buckwheat can be grown between planting seasons or as an additional crop – enabling farmers to increase their income on a single field.

Buckwheat flowers attract diverse pollinators, creating a biodiverse ecosystem.
"Buckwheat gives farmers an additional income source. It can be used to get people who frankly don't care about regenerative agriculture to start converting. We're not just buying buckwheat that was already being grown regeneratively. We were finding farms that weren't certified, getting them certified by adding buckwheat to their crop rotation." – Adam


Regenerative Verification Through SCI
Because buckwheat can help facilitate the transition to regenerative, the PACHA team knows the farmers they work with and the product they produce deserve some sort of market validation for their regenerative efforts, even if they are not currently at the aspirational high bar of Regenerative Organic Certified®.
This is the value Adam, Maddie, and John see in the program brought forth by Soil Carbon Initiative™ (SCI). SCI measures a farmer's progress against seven core regenerative principles based on concrete soil health metrics and is designed to verify transitioning acres to regenerative.
"SCI is all about setting a baseline, becoming better each year, implementing new regenerative practices – that's the requirement for certification. You don't have to jump over this crazy high bar that's way out of reach. It's about making progress and getting there. It's making a big difference for farms to be able to just take those small steps rather than have to jump over that, you know, that huge bar, which seems unattainable." – Adam


Building Market Share
Driving trial (getting new customers to try products) is especially top of mind for PACHA right now as the brand gets placed into Whole Foods nationally. While PACHA is effectively gaining market share from other gluten-free brands in the frozen section, their challenge is getting regular bread buyers to try their bread. While tactics like demos and promotions can be effective at driving trial, the reality is that demos are expensive and not always effective. Instead, they've resorted to "guerilla marketing tactics" in an attempt to get their brand into people's hands in any way possible. They raised money through WeFunder and are tapping into this super-engaged army of investors to leverage their brand, sending them coupons and encouraging them to spread them around and share what they love.
Looking ahead, they'll continue to target other high-volume retailers with customers searching for organic food. They're scaling their direct-to-consumer business and focusing on product innovation, making sure to stay focused on sourcing, production, and profitability.


50% Market Share for Regen by 2050
As a scientist and pragmatist, Maddie acknowledged that the only way to reach 50% market share by 2050 is a shift in policies toward supporting regenerative agriculture over yields in corn and soy. For Adam, the onus lies on the consumer and market pressure.
"We need consumers to be buying and supporting regenerative brands and willing to pay the extra dollar right now because that is going to eventually bring down the cost. As more consumers buy regenerative, the bigger companies will start investing in regenerative and buying regenerative brands and moving some of their products in that direction. When we get both the consumer and the products moving in that direction and creating the market for it, we'll get there eventually. Yes, subsidies will make it more affordable and make it happen faster but the market can move things fast (as well)." – Adam


---
You can check out the full episode with Adam Hiner & Maddie Hamann @ PACHA HERE.
Subscribe to future episodes of the ReGen Brands Podcast on your favorite podcast platform using the buttons below. You can help support our mission of growing regenerative CPG brands with a 5-star rating!
Stay engaged in the conversation by subscribing to our weekly newsletter, The ReGen Brands Weekly, and connecting with us on LinkedIn (Kyle & AC).
Your support of the show and these brands truly means the world to us. Thank you!
This ReGen Recap was produced with support from Kristina Tober