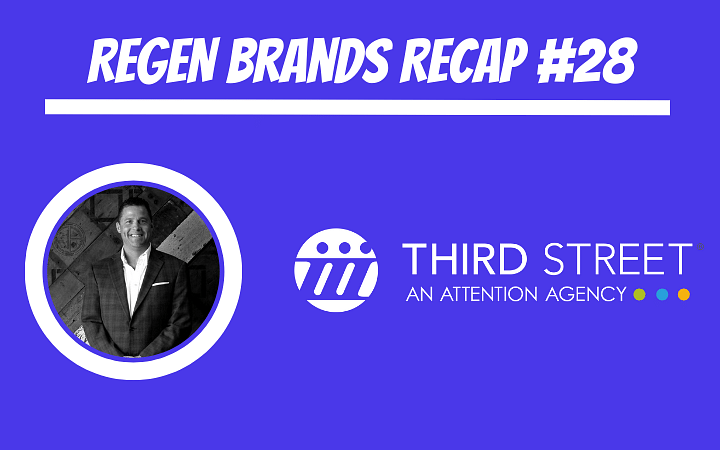 Sean Smith @ Third Street
Helping Brands Take "The Third Street"
Sean Smith is a Co-Founder and the President at Third Street. Third Street partners with regenerative brands to create memorable branding, marketing, advertising, and other "attention" generating campaigns.
Sean and his Co-Founder (and former college roommate) David Jones founded Third Street 15 years ago. They were both working creatives – Sean in media and David in advertising – seeing an opportunity to help brands cut through the noise, Third Street was born.
"Consumers get hit with upwards of 300,000 different messages a day. They're bombarded by endless distractions in the marketplace. Formulaic, preconceived ideas from traditional marketing and advertising are no longer effective. We get brands the right type of attention they need - whether it's capturing the attention of the consumer or a retail decision maker." - Sean
Unique Challenges 4 Regen Brands
Third Street believes every business is a B2B business, or better yet a P2P business (person to person). All consumer-facing brands need to garner the attention of key decision-makers other than the end consumer, whether it's an investor, retail buyer, or even their internal team.
With that said, driving trial and repurchase of their products with consumers is still the most important task of any brand. Regenerative brands experience unique challenges due to the relative newness of the term "regenerative agriculture" and uncertainty about what it means.
"Stop 10 people on the street and ask them if they've heard of regenerative agriculture. Research finds that about 19% of consumers will be familiar with the term but even fewer can explain what it actually means. Even if we say, it's better for you, better for the planet, better for the farmer and the animals, we still haven't gotten to the essence of "What's in it for me?" - Sean
Right now, the majority of regen brands must also convince consumers that their higher quality merits a premium price. In that same consumer research, "when asked to choose between a standard breakfast cereal and a more expensive version labeled as 'grown with regenerative agriculture,' most people (66%) said they would opt for the original, less-costly version."
It's not enough to demonstrate that you're just affecting positive change, it has to also taste great. Plus, brands need to lead with value propositions that resonate with consumers' most-prized needs. See below for a graphic from Nielsen IQ demonstrating "altruistic" needs as the fifth and final slot in the hierarchy behind protective, preservation, aspirational, and evolving needs.
"If a consumer can choose between two products, the one that's better for them and doing something for the greater good is going to win out over a commodity or conventional brand as long as it tastes as good." – Sean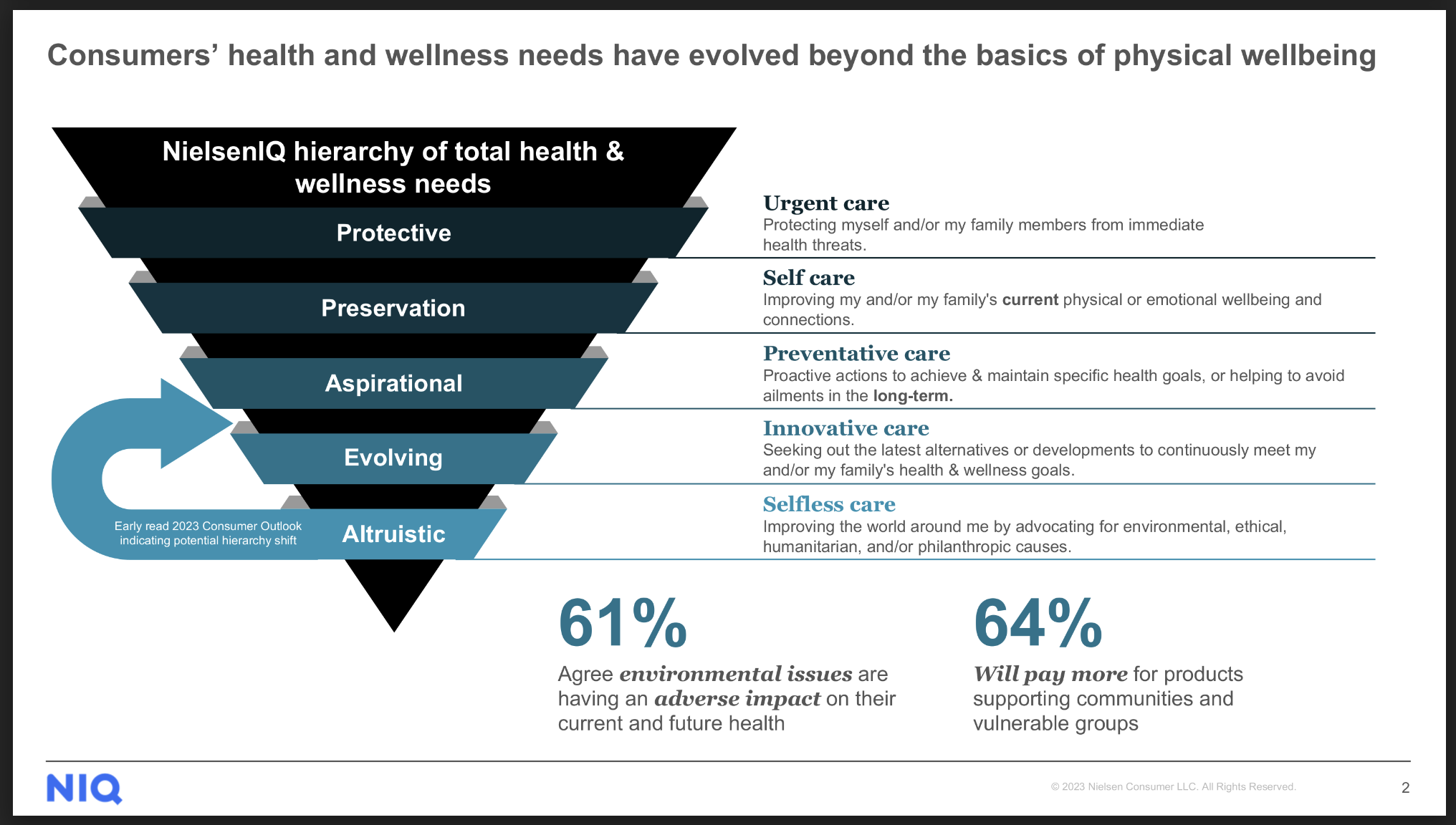 Credit: Nielsen IQ
Communicating Your Value
For CPGs in general, the struggle is getting consumers engaged with your product in a way that communicates your value prop. Unless consumers can try your product, taste or smell it, they're not getting exposed to that leading value prop. Moreover, as more consumers shop online, with every keystroke, products lose half their audience. The challenge is to think outside the box, and Third Street can help.
For example, when KFC launched its fiery grilled hot wings, Third Street arranged a partnership for KFC to purchase new fire extinguishers for the City of Indianapolis Parks Department. The fire extinguishers filled a critical need for the city and they were branded around the hot wings launch. KFC earned 60 million media impressions in the process – all for only $5,000. It was a breakthrough partnership that didn't take a lot of money but got KFC the attention it was looking for. Emerging regenerative brands need high ROI campaigns like this that can create currency from creativity.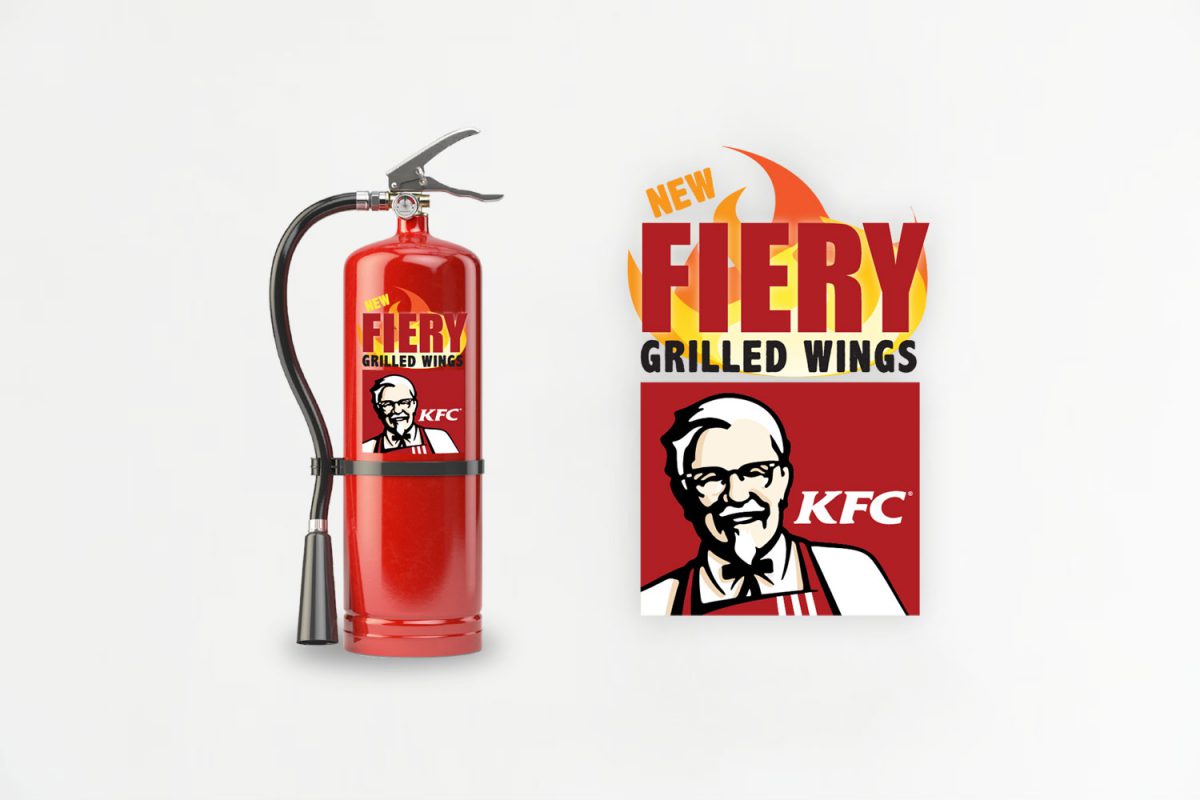 Third Street also led the rebrand of SunFed Ranch, a grass-fed beef brand based on the West Coast. While their beef is 100% grass-fed and regenerative, they had a hard time breaking out of their three historical markets. Sean and his team partnered with SunFed on a complete brand reconstruction which included a total overhaul across entities, channels, and communication mechanisms.
At the core of the new branding is a consumer-facing phrase that captures the brand essence: "All Beef, No Bull." It's a catchphrase that's ownable, with attitude, but also relatable and extendable with all kinds of different ways to express their message to different audiences.
After 10 years of talking to the same buyers and retailers, the new content and website refresh caught fire, increasing SunFed's store count 5x and increasing social engagement by 21,672%. (check out the below recap video highlighting the brand transformation and accomplishments since)
"It all starts with our Ascend brand-building process. At the foundation is a brand wheel that we work together to fill. What's the brand voice? What are the brand's unique and ownable attributes? What's at the center, the essence of the brand? Each spoke is connected to the next – creating a wheel that drives the brand forward. Once the strategy and vision are nailed down, the tactics reveal themselves." - Sean
How to Make Noise
Sean and AC spent time in the episode discussing ways brands can start to make noise all on their own for little to no cost:
Pick a person within your brand whose circles overlap with the brand identity. This individual can use organic social to get more reach for the brand versus having to use paid ads to reach the audience you seek. This will become even more important with Gen Z audiences who want things humanized and are the most sustainability-minded consumers out there.

Look into a service like HARO (Help A Reporter Out), where a brand can establish itself as a subject matter expert in their chosen field and get free public relations in the process. It's an instant credibility booster for your brand.

Be authentic. Consumers know what a humble brag looks like and what contrived B.S. messaging reads like. Set the bait with a compelling message that brings them into your world.

Don't try to say everything at once – which is a challenge for regen brands because there are so many great things to say. Focus on what's unique, that one thing that's going to bring them in.

Focus on something special that makes your consumer feel some type of emotion – laughing or crying. Once you make that emotional connection, your audience is going to have a lot more patience and receptiveness to hearing your benefits. You have to change hearts to change minds.

Consumers want to be enlightened, not educated. They don't like to be preached to or have something shoved down their throats. They want to feel a connection and instinctively feel good about their choice – and it all builds from that central message, that brand essence.
The Path to 50% Market Share 4 Regen
Sean believes regenerative brands must work together to get the attention they deserve and reduce retailer and consumer confusion. Regen needs a simple overarching framework – a brand essence – that cuts through the noise of all the certifications, methodologies, and products. Brands need to collectively enlighten, not educate. They need to put that emotional connection first, pull consumers and retailers in and get them excited to learn more. Together, they're leaving the world better than they found it – and that's what it's all about.
---
You can check out the full episode with Sean from Third Street HERE.
Subscribe to future episodes of the ReGen Brands Podcast on your favorite podcast platform using the buttons below. You can help support our mission of growing regenerative CPG brands with a 5-star rating!
Stay engaged in the conversation by subscribing to our weekly newsletter, The ReGen Brands Weekly, and connecting with us on LinkedIn (Kyle & AC).
Your support of the show and these brands truly means the world to us. Thank you!
This ReGen Recap was produced with support from Kristina Tober