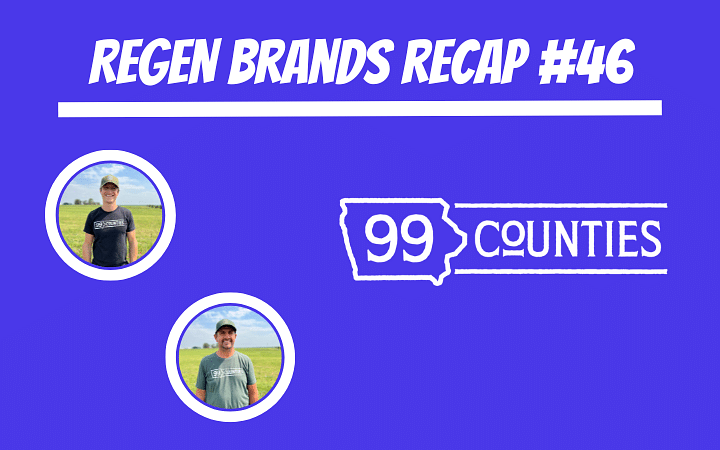 Christian Ebersol & Nick Wallace @ 99 Counties
Regenerating Iowa One County At A Time
Christian Ebersol and Nick Wallace are the co-founders of 99 Counties. 99 Counties is supporting regenerative agriculture through its direct-to-consumer e-commerce business that partners with small family farms in Iowa to sell a myriad of regeneratively raised meat products to customers nationwide.


The Brand
Aptly named after Iowa's 99 counties, 99 Counties was founded to lead the transition to regenerative agriculture in Iowa. Their regenerative meats (which include grass-fed, grass-finished beef, pastured pork, chicken, turkey, and more) are all sourced from small family farms in Iowa and delivered directly to consumers. They also recently introduced meat sticks which will eventually be an omnichannel offering.


From Sickness to Health
Co-Founder and Chief Farmer Nick Wallace grew up in Strawberry Point, Iowa, on a commodity corn farm. In the 1980s, when interest rates skyrocketed from 6 to 22%, Nick's father was forced to take a job off the farm working for Berenberg, one of the world's largest grass seed companies and a favorite among organic farmers. A few years later while in college, Nick was diagnosed with cancer.
After attending Acres USA's Eco-Ag Conference and hearing ecological farming leaders talk about the poisoning of America's food, his dad came home and committed to changing how his family looked at food and farming.


A Grass-Fed Revolution
After this revelation, the family converted to eating only grass-fed beef with the desire to eventually raise it themselves. This vision became a reality in the early 2000s with Nick leading the farming efforts. In the first 10 years, after setting up buying clubs, frequenting farmer's markets, and selling one box at a time, they went from $12,000 to $1.2 million in sales, pooling a coalition of farmers to help them fulfill all the demand. In 2017, they hit a plateau as grocery chains and big corporations started carrying their own labels of grass-fed beef.
Around this time, Nick thought back to what their family had set out to accomplish through all of this: to change agriculture. He knew this was a critical junction to set a plan forward to meet that ambitious target.
Serendipitously, Nick had his own revelation at an Acres USA Eco-Ag Conference. He joined his parents at the conference in Minneapolis where he met with Zach Bush, David Leon, Brandon Welch, and Reginaldo Haslett-Marroquin. Driving home inspired, he started thinking about the potential to regenerate Iowa through a "county-by-county" approach.
"I asked Google, how many counties are in Iowa and 99 counties pops up. I'm like, that's the name, that's it. There's the 1% for elites, but we need healthy food for the 99%. This is the movement."
"Who wouldn't sign up for $150 a month? Add a zero, get Willie Nelson or James Earl Jones to narrate a commercial, multiply that out over 12 months and we've changed Iowa." – Nick


Law of Attraction
Across the country, Christian was going through his own personal journey. After watching California experience some of the worst droughts and fires in history, he followed his own climate wormhole, going from solar panels to carbon sequestration to a conversation with Gabe Brown. After being born and raised a "coastal elite," Christian saw that our greatest climate opportunity sat at the center of our country with farmers and regenerative agriculture. After driving across the country, meeting the most generous minds in regenerative agriculture, he ended up in Iowa where he was introduced to Nick.
They quickly put their complementary skills to work, raised capital, and incorporated 99 Counties two years ago.
"Iowa is 90% corn and soybeans, but that's not feeding people and it's having a lot of negative impact on the land and human health. With just enough consumers, we can really make a difference in Iowa and ultimately the world." – Christian


Harsh Realities
Iowa is truly "ground-zero for degenerative agriculture," posting these alarming stats related to human and environmental health:
Dead last in soil erosion rates

2nd to last in ecosystem impacts

4th to last in conservation practices

5th highest rate of water nutrient run-off

7th highest incidence of cancer

And the 11th-highest obesity rate


"We need to look at ourselves pretty intensely in the mirror and admit we're failing miserably. Crony capitalism has deeply rooted itself in Iowa. It's not the farmers' fault. We have to find ways to help the guy who flies a crop duster for a living, or the people working at ethanol plants. We think the solution is grassroots from the ground up as 99 Counties grows more and more farmers change from doing chemical agriculture to doing regenerative agriculture because we've created a market for it. " – Nick


Finding A Working Model
99 Counties has executed various growth initiatives since launching two years ago. Recognizing that the average consumer needs to see a brand seven times before they'll purchase from them, the team has built an organic social presence, executed a lot of digital performance marketing, and even sent personal letters via direct mail. They've recently introduced "behind-the-scenes" style content where Nick details how radically different their products are than what is on the market and some marketing schemes that create misperceptions of value. 99 Counties offers both memberships and subscriptions, and they see the subscription offering as a key growth lever moving forward.
"That subscription is easy to 'set it and forget it' (for the customer). People get their products once a month and can plan around that." - Nick
"We're giving consumers easy access to healthier meat. We're serving as the middleman for those farmers who don't have the time to market, package, and sell their regenerative meat direct to consumers, and can't go commodity because they're not big enough. It's a way to honor their work and honor the animals, and create amazing products in the middle sold at a fair price." – Nick


The Whole Package
One of the biggest challenges 99 Counties faces is how to maximize the whole animal. That's the impetus for the meat stick products. Not only does it help from a carcass utilization standpoint, but it builds brand awareness for the direct-to-consumer product.
As Nick explains, there's no reason they shouldn't be doing more. "We should have artists out there making leather goods from the hides. We have bones and chicken backs, and should be making bone broths and soups. Then you've got tendons and other parts you could grind up or dehydrate for pets. The steaks aren't hard to sell but we have to work in all these other value-added products."


50% Market Share for Regen
For Nick and Christian, the simple answer is to sign up for 99 Counties, support small farmers, and start changing the world. The more complex answer is to get people to pick a side.
"As Gabe Brown says, we're either going to wake up and make decisions that help us live and thrive and be more beautiful and nourish us or we're going to decide what to kill today. If we all pick a side today, we'll get there before 2050." – Nick


---
You can check out the full episode with Christian & Nick @ 99 Counties HERE.
Subscribe to future episodes of the ReGen Brands Podcast on your favorite podcast platform using the buttons below. You can help support our mission of growing regenerative CPG brands with a 5-star rating!
Stay engaged in the conversation by subscribing to our weekly newsletter, The ReGen Brands Weekly, and connecting with us on LinkedIn (Kyle & AC).
Your support of the show and these brands truly means the world to us. Thank you!
This ReGen Recap was produced with support from Kristina Tober
<scribe-shadow id="crxjs-ext" style="position: fixed; width: 0px; height: 0px; top: 0px; left: 0px; z-index: 2147483647; overflow: visible;"></scribe-shadow>